Community Engagement for Southport Broadwater Parklands Master Plan
Gold Coast City Council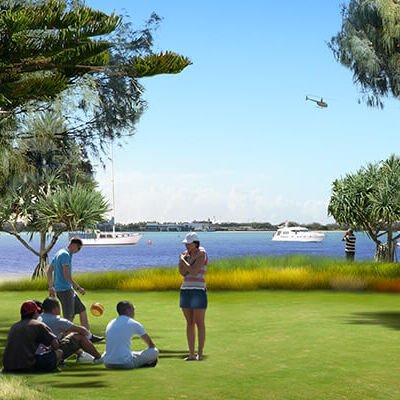 different stakeholder groups engaged
local government stakeholders
community service providers
tourism sector stakeholders
The community engagement program educated, inspired and engaged stakeholders to provide strategic input regarding their visions, aspirations and issues across a number of consultation events.
Plan C identified strong synergies and shared visions over five key themes that included environment and water, sport and recreation; arts, culture and diverse groups; events and activities; and amenities and facilities.

The themes framed the design to ensure that the project would be a great place for people, reconnect the city to its waterfront, create a world class landscape and provide urban water gardens.

Stakeholders gave feedback on the refined and staged draft concept plan, presented with accompanying artists' impressions of parkland spaces, and ranked 40 concepts.
Achieved broad engagement with a range of stakeholder groups, considering the significance of the site to the city as a major entry point, and the local community as a recreation space and resource.
Produced and facilitated a 'Speakout' event that attracted broader awareness and participation in the program through activities for families and a live open-air radio broadcast.
Revitalised a hugely successful and loved public open space at the gateway to the Gold Coast strip.
The Institute of Public Administration Australia nominated the program as a finalist in the Best Practice in Local Government Award in 2010.